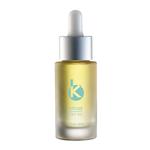 The Karlfeldt Store
Kōzōn Etesian Face Oil
Etesian Face Oil is handcrafted with the highest quality aromatics and organic oils. It contains only three real ingredients, all of which you can pronounce!
Kōzōn Etesian face oil is handcrafted with organic apricot oil and activated oxygen (O3) and is ideal for softening fine lines, addressing problem areas, and restoring healthy, beautiful skin. 
Ingredients: organic apricot oil (Prunus armeniaca) with activated oxygen (O3), frankincense essential oil (Boswellia carterii), and cistus essential oil (Cistus ladanifer).

How to use: Gentle massage few drops onto dry skin, use twice a day or as it needed
Skin type: all skin types